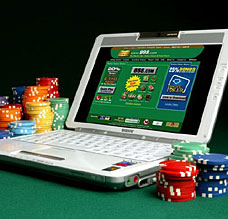 In late February 2013 the New Jersey Legislature passed legislation allowing on-line wagering, subject to certain limitations.  This legislation was signed into law by Governor Chris Christie.  Under the new law, licensed operators will be allowed to offer online versions of a wide variety of games currently permitted in Atlantic City casinos.  This includes table games like roulette, craps and black jack as well as slot machine games. The new law will not take effect until the State Division of Gaming Enforcement sets a start date, which is expected to be from 3 to 9 months away. A year ago Governor Christie vetoed similar legislation on state constitutional grounds.  Supporters of the legislation argued that the constitutionality was not in question as the law requires the computer equipment being used to be located in Atlantic City.  According to the new law, by having the computer equipment in Atlantic City, the bets placed using that equipment would be deemed to have been placed in Atlantic City.
The new law purports to avoid running afoul of the 1961 Federal Wire Act by requiring the gamblers to be in New Jersey to place bets and by not allowing sports betting.  This results from a 2011 Department of Justice opinion that held that intrastate on-line gambling does not violate the Wire Act unless it involves sports betting.  Notwithstanding the in-state gambler requirement, the proposed law would allow out of state bets from other states that have a reciprocal agreement in place with New Jersey.
New Jersey's new law represents another significant step forward for on-line gambling in virtual casinos.  Nevada and Delaware already have enacted legislation to allow on-line gambling.  Given the proliferation of state authorized gambling, other states are expected to follow and enact similar legislation and enter into reciprocal agreements to allow interstate gambling between those states. However, most if not all of this legislation will also require operators to be licensed. In Nevada, for example, even though the law that was passed is broader, licenses are only being accepted for online poker.  While Nevada has approved a number of licenses, it has not authorized any entity to actually commence online poker operations.