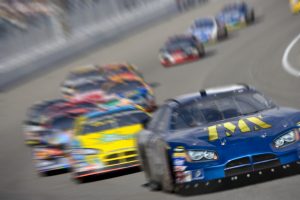 Car racing games have long attracted avid gamers.  There's the Gran Turismo series, the appeal of which wasn't just the number of cars and tracks available, but also the ability to simulate a racing season and race against other players online. The cars could be heavily tuned, and for the most part different models had their own handling quirks and personalities.
Ten years after the debut of Gran Turismo 5, the power of racing simulations has jumped from gamers racing around the globe to being the anchor in a new competitive esports race series. After cancelling live races due to COVID-19 concerns, Engadget reported that NASCAR has launched the "eNASCAR iRacing Pro Invitational Series," replacing the canceled NASCAR races with "simulation-style" esports competitions." NASCAR's new series involves top-tier competitors, including Dale Earnhardt Jr., Bobby Labonte, Kyle Busch and Denny Hamlin among other racers and luminaries from various NASCAR series.
The first race in the series, held on March 22, was a huge ratings win for the sector. Engadget reports that the race "drew 903,000 viewers on FS1, making it the highest-rated esports TV program to date" and that Fox has decided to cover the remainder of the season "on both the Fox broadcast network as well as FS1 and the Fox Sports app."
NASCAR isn't alone in turning toward simulations to keep fans engaged; sport journalists are turning to simulations to stay engaged with their favorite sports leagues and teams. ESPN reported that "Sam Adams, a sports anchor at SWX in Spokane, Washington," reached out to Wolverine Studios for help in creating a custom bracket for SWX which allowed Adams to simulate the games and get realistic outcomes. Indeed, the NBA is reporting that Monumental Sports, the owners of the Washington Wizards and Washington Capitols are simulating the rest of the NBA and NHL seasons presenting "one-hour video game simulations of previously scheduled Washington Wizards (NBA) and Washington Capitals (NHL) through Take Two Interactive's NBA 2K20 and EA Sports' NHL 20" on the Monumental Sports Network and NBC Sports Washington (NBCSW). And at the same time, local partners like Papa John's are using the results of those games to provide discounts to fans based on the results.
Finally, in a sign of how important esports broadcasts and competition is becoming, CBS Sports reported that Nevada made a historic decision to allow sports betting outlets in the state "to accept esports wagers for Counter Strike: Global Offensive (CS:GO)." With most sportsbooks around the country having little to offer given the shutdown of major sports due to COVID-19, the approval of sports betting on an entire league is sure to be followed by more eSports leagues being approved. And as the money flows towards esport's betting, so will fan and sponsor interest.