The Federation of State Medical Boards recently adopted Model Policy Guidelines for use of social media in medical practice.  The use of social media by medical practitioners and the number of mobile medical and wellness applications continues to increase. These factors are transforming certain aspects of the doctor patient relationship. However, this also creates legal issues of which practitioners and mobile app developers must be aware.
Among other things, these policies make clear that:
·         provider organizations should develop social media policies
·         patient privacy and confidentiality must be protected at all times
·         physicians should not interact with patients on personal social networking or social media websites such as Facebook
·         medical practitioners may use social networking sites to engage in peer-to-peer sharing with other physicians of experiences and education and to discuss areas of medicine and particular treatments, provided these sites are password-protected so that non-physicians do not gain access and view discussions implying medical advice
·         when using peer-to-peer physician sites, physicians must reveal any existing conflicts of interest and they should be honest about their credentials as a physician
With respect to mobile medical applications, the FDA has issued draft guidance.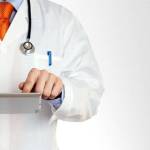 The FDA currently plans to apply its regulatory oversight only to certain types of mobile apps, focusing on mobile apps that either have traditionally been considered medical devices or affect the performance or functionality of a currently regulated medical device.  For the subset of mobile medical apps that are subject to regulatory oversight, manufacturers must meet the requirements associated with the applicable device classification.
The following examples represent mobile apps the FDA considers mobile medical apps and that will be subject to its regulatory oversight:
Mobile apps that are an extension of one or more medical device(s) by connecting

17

to such device(s) for purposes of controlling the device(s) or displaying, storing, analyzing, or transmitting patient-specific medical device data. Examples of displays of patient-specific medical device data include remote display of data from bedside monitors, display of previously stored EEG waveforms, and display of medical images directly from a Picture Archiving and Communication System (PACS) server, or similar display functions that meet the definition of an MDDS. Examples of mobile apps that control medical devices include apps that provide the ability to control inflation and deflation of a blood pressure cuff through a mobile platform and mobile apps that control the delivery of insulin on an insulin pump by transmitting control signals to the pumps from the mobile platform.

Mobile apps that transform the mobile platform into a medical device by using attachments, display screens, or sensors or by including functionalities similar to those of currently regulated medical devices. Examples include a mobile app that uses a mobile platform for medical device functions, such as attachment of a transducer to a mobile platform to function as a stethoscope, attachment of a blood glucose strip reader to a mobile platform to function as a glucose meter, or attachment of electrocardiograph (ECG) electrodes to a mobile platform to measure, store, and display ECG signals; or, a mobile app that uses the built-in accelerometer on a mobile platform to collect motion information for monitoring sleep apnea.

Mobile apps that allow the user to input patient-specific information and – using formulae or processing algorithms – output a patient-specific result, diagnosis, or treatment recommendation to be used in clinical practice or to assist in making clinical decisions. Examples include mobile apps that provide a questionnaire for collecting patient-specific lab results and compute the prognosis of a particular condition or disease, perform calculations that result in an index or score, calculate dosage for a specific medication or radiation treatment, or provide recommendations that aid a clinician in making a diagnosis or selecting a specific treatment for a patient.
The FDA plans to address in a separate issuance mobile medical apps intended to analyze, process, or interpret medical device data (electronically collected or manually entered) from more than one medical device. The implications of these analyses and interpretations may pose a wide range of risks to public health and patient safety.
The use of social media in health care and the number of mobile medical and wellness applications are sure to increase. If you are leveraging either or both of these trends, please make sure you consult with knowledgeable social media/health care attorneys to understand the legal issues.  
Pillsbury's social media team includes a number of attorneys who regularly assist clients in these areas.