Oh, the once humble hashtag (or pound sign, number sign, octothorpe, etc.). For so long a symbol both ubiquitous and free from controversy, its new life as a go-to signifier of discussions and trending topics on Twitter has made it relevant in ways no one could have predicted a decade ago. For proof, one only need look to the courts, where a recent spat between two competitors highlights the interplay between social media symbology, such as the hashtag, and intellectual property laws (especially trademark law).
In Eksouzian v. Albanese, the parties, both of whom make and sell compact vaporizer pens, reached a settlement agreement to resolve trademark infringement claims. (Case No. 2:13-cv-00728-PSG-MAN (C.D. Cal.)) However, the plaintiffs filed a Motion to Enforce Settlement Agreement (SA) on September 11, 2014, alleging the defendants violated several provisions of the agreement. In particular, the SA provided that, in order to avoid consumer confusion, the plaintiffs could use the word "CLOUD," standing alone or in "CLOUD V" and/or "CLOUD VAPES" as a trademark (but avoiding close association with "PEN," "PENZ," "FUEL," and "PAD"), while the defendants could only use the word "CLOUD" in "combination with another word as a unitary mark" (for example, "CLOUD PENZ" and "CLOUD PEN"). The defendants were using the following mark with its products: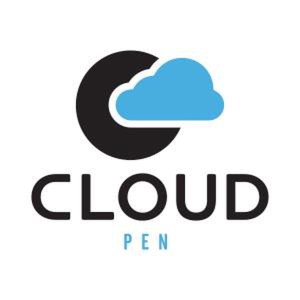 The plaintiffs complained that this mark failed to use "CLOUD" in the requisite unitary mark. While the SA did not specify the size and specific relationship of "CLOUD" with the other word(s), it did require that "the word coupled with CLOUD must be in close proximity and be readable."
In response to the plaintiff's contentions, the defendants argued several counterarguments including material breaches of the SA by the plaintiffs that excused the defendants' failure to meet their obligations under the SA. Specifically, the defendants argued that the plaintiffs' use of #cloudpen in Instagram posts violated SA II(B), which provides in part: "If Plaintiff sells a pen, Plaintiff may describe its product as a pen, however, what Plaintiff may not do is create a unitary trademark (as has been defined here) which includes CLOUD in close association with the words "pen," "pens," "penz," "pad," or "fuel."
Citing various cases that describe the "hallmarks" or "observable characteristics" of a unitary mark, as having elements that "are inseparable" or that "create a single and distinct commercial impression," the magistrate judge ultimately concluded the defendants' use of "CLOUD" did not create a unitary conceptual impression and was not a unitary mark in her August 7, 2015 Order.
As for the counterarguments of the defendants, the Court found that SA II(B) did not preclude the plaintiffs from accurately referring to products that they sell in marketing materials and the like as "pen" since that term is a common descriptor of compact vaporizers. The Court emphasized that SA II(B) only prohibited the plaintiffs from creating a unitary trademark which includes CLOUD in close association with "pen," "pens," "penz," "pad," or "fuel." The Court went on to cite the Trademark Manual of Examining Procedure (TMEP) and state that "[t]he addition of the term HASHTAG or the hash symbol (#) to an otherwise unregistrable mark typically cannot render it registrable." (See TMEP § 1202.18 – "Generally, the hash symbol and the wording HASHTAG do not provide any source-indicating function because they merely facilitate categorization and searching within online social media.") Accordingly, the Court found the plaintiffs' use of #cloudpen to be a merely descriptive device (to direct the location of the plaintiffs' promotion so it is viewed by a group of consumers) and not as a trademark.
One has to wonder, whether the Court's conclusion regarding #cloudpen would have been different had the defendants demonstrated that their mark CLOUD PEN had gained secondary meaning and thus was itself registrable. TMEP § 1202.18 also provides that "[a] mark comprising or including the hash symbol (#) or the term HASHTAG is registrable as a trademark or service mark only if it functions as an identifier of the source of the applicant's goods or services" and this determination is "made on a case-by-case basis." The example that the TMEP provides is the following: #SKATER for skateboarding equipment is merely descriptive and so may be refused registration while #INGENUITY for business consultation services is registrable with a disclaimer of the hash symbol.
Indeed, a search on the U.S. Patent and Trademark database reveals numerous registrations that include the hash symbol, the examples below being just a few:
#BOSSBABE (Reg. No. 4750980)
#FIXITJESUS (Reg. No. 4743330)
#ASTONLIFE (Reg. No. 4742760)
# HASHTAGLUNCHBAG (Reg. No. 4733946)
#THEFITNEWYORKER (Reg. No. 4703167)
#CUT50 (Reg. No. 4692073)
#BEUNPRECEDENTED (Reg. No. 4682222)
#CHATAUTISM (Reg. No. 4650746)
#BEAUTYSERVICE (Reg. No. 4726061)
#WINELOVER (Reg. No. 4345897)
As the use of hashtags evolve from mere social media tools to intellectual property, we will likely see much more litigation surrounding this use. Moreover, the nature of hashtags may limit the arguments against a likelihood of confusion. The traditional test for likelihood of confusion involves a variety of factors, including whether the marks at issue are used in connection with related types of goods or services. A common argument against trademark infringement has been that use of similar or identical marks does not cause consumer confusion when the marks are used in connection with unrelated goods or services. Because a specific hashtag creates a single feed for all posts under that tag, regardless of what the tag is being used in connection with, it may be difficult to argue that using identical hashtags in connection with unrelated goods or services could help avoid consumer confusion. Parties should thus be wary before employing new hashtags and consider necessary due diligence beforehand, such as conducting trademark clearances.