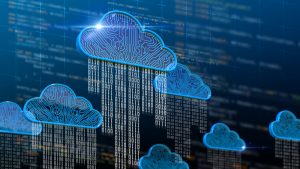 Modern cloud computing only came into existence about 20 years ago, but now virtually all enterprises (99%) are using cloud services. Cloud adoption accelerated further in the last two years because of the COVID pandemic as a result of an increase in remote work, the evolution of online business strategies (e.g., e-commerce), and the focus on business resilience. In addition, given budget uncertainties, moving technology tools, data and storage to the cloud usually results in significant cost savings to an organization, which is the top priority for organizations using cloud services six years in a row.
Achieving the best and most efficient outcomes in the cloud, however, requires a strategy. One such strategy that more and more organizations are successfully embracing is multicloud.
What is a multicloud strategy?
A multicloud strategy is one in which organizations use two or more cloud services for their computing needs. For example, an organization might deploy computing workloads onto the cloud platforms of several cloud service providers.
A multicloud strategy could also include multiple private or public clouds (private multicloud or public multicloud, respectively) or a combination of both, also known as a hybrid cloud. In fact, many organizations may already be using a hybrid multicloud (e.g., a private cloud for sensitive customer data and a public cloud for managing client interactions).
Like cloud adoption generally, the multicloud strategy has recently been trending. In 2021, 89% of enterprises employed a multicloud strategy.
What are some benefits of a multicloud strategy?
Using a multicloud strategy has many benefits for enterprises. The biggest advantage comes from the fact that the organization is not "bound" to running its workloads with one cloud service provider, which cascades into other benefits:
A multicloud strategy provides flexibility in choosing the "right fit" for an organization's applications and workloads. Rather than using one cloud service provider for all computing needs, an organization can choose platforms, tools and systems that are best tailored to support specific workloads, regulatory and compliance requirements, geographic locations, and budget. The one caveat is that cloud service providers typically require a "minimum commitment" of cloud consumption, so an organization's cloud adoption roadmap should be carefully planned in connection with those minimum requirements.
Best Pricing. Another benefit of a multicloud strategy is that a customer can shop for the best pricing among its providers in the multicloud environment, which is an inherent benefit of competition. Cloud service providers competing for market share and business is the best form of leverage for a customer in achieving the best pricing, discounts and perhaps spend credits. (Azure usage surpassed that of AWS in multiple instances in 2021, the first time since Flexera started tracking this in their annual State of the Cloud Report.) This is especially true near a cloud service provider's quarter-end or fiscal year-end.
Business Resilience. A multicloud environment allows an organization to mitigate risk by spreading out its applications across multiple providers—i.e., if one provider experiences an outage, then not all applications are likely to be impacted. This approach is a key mechanism for reducing risk, and it is especially important as organizations move more of their workloads into the cloud (leaving fewer applications within an organization-owned data centers). Organizations may even consider spanning individual applications over multiple clouds to reduce any impacts to the application as well as any downstream impacts on integrated platforms. Moreover, spreading out sensitive data over multiple clouds may also mitigate some security risks and concerns.
Regulatory Compliance. Relatedly, for enterprises who are in regulated industries such as health care or finance, regulators are likely to look upon the diversity of cloud vendors favorably. Financial regulators and industry oversight boards, for example, have encouraged financial institutions to distribute critical IT systems across multiple providers to (a) minimize any disruptions from a disaster such as an outage or security breach, and (b) reduce the likelihood of dependency on any one provider. In its Cloud Computing in the Securities Industry report last August, the Financial Industry Regulatory Authority (FINRA) stated that organizations should be mindful of "vendor lock-in" and encouraged firms to consider multicloud strategies as they move increasingly to the cloud. Regulators across Europe (European Banking Authority and Bank of England's Prudential Regulation Authority) and Asia (Monetary Authority of Singapore) also warn of reliance on a single or a limited number of cloud providers.
Multicloud may also allow organizations in regulated industries to abide by country-specific regulations such as where data must be stored. For example, China's 2016 Cybersecurity Law mandates that personal information and sensitive data collected by "critical information infrastructure operators" in the country be stored domestically, which requires companies to build local data centers. Those organizations operating in China and other countries with geographic regulatory laws may build a private cloud to host country-specific data and employ other clouds, whether private or public, for their other operations.
A final note of caution…
As organizations move forward with their multicloud strategies, we offer one note of caution. Before finalizing any agreements for cloud services with a provider, make sure that the contract does not contain any exclusivity terms or exclusivity-sounding commitments such as "primary cloud provider" or "preferred cloud provider." These terms may limit an organization's ability to leverage other cloud services or providers as intended.
Migrating to the cloud and setting up a multicloud environment may seem daunting; however, the benefits of multicloud are vast and may well make it worth getting your head, and your enterprise, in the clouds.