Until recently, social media has been one of the only recourses for fashion designers and labels that have had their designs knocked off. Take the Acquazurra "Wild Thing" sandal, for example. Acquazzura is a high-end shoe brand that designed and released the $785 sandal, identifiable by its "wild" fringe on the toes. Shortly after, Ivanka Trump released the "Hettie" sandal, an almost identical shoe which, priced at $145, was almost $600 less expensive.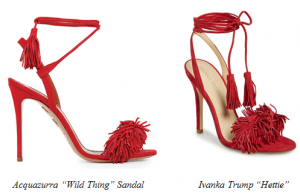 Fashion designs have traditionally had very limited protection under U.S. copyright law, which protects "original works of authorship fixed in any tangible medium of expression." For a work to be considered original, it must be independently created by its author, and possess at least some minimal degree of creativity. Certainly, clothing designs fall within this ambit of protection. However, copyright protection does not apply to items that serve a utilitarian function, and for that reason, clothing designs have been afforded relatively little protection under copyright law. For example, a white t-shirt cannot garner copyright protection because the t-shirt is a useful item with no separately artistic element. The only way for the design of a garment to acquire copyright protection is if the design "can be identified separately from, and [is] capable of existing independently of, the utilitarian aspects of the article." What this means has historically been the subject of much confusion and debate.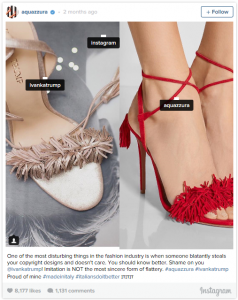 Thus, in the past, designers have turned to the socials, and not the courts, to find justice. In the case of Acquazurra v. Ivanka, Acquazurra turned to Instagram to publicly call out Ivanka for her apparent copying. No lawsuit was filed.
However, this all may change soon. Two weeks ago, the Supreme Court of the United States announced that it will address the issue whether apparel can be protected by copyright law—a question described by the petitioners in the case as "the single most vexing, unresolved question in all of copyright." The justices will consider the ruling by the U.S. Court of Appeals for the Sixth Circuit in Varsity Brands, Inc. v. Star Athletica, LLC, that the stripes, chevrons, zigzags, and color blocks that appear on a cheerleading uniform are protectable under copyright law. (For a more in-depth exploration of this case, see our client alert, "Protecting Fashion through Copyrights.")
The Court's decision may have significant implications for those in the apparel business. If the Court adopts the Sixth Circuit's decision, clothing designers and manufacturers will have much broader protection for their designs than has traditionally been granted. This may also widen the universe of clothing designers, manufacturers and retailers' exposure to liability for designs that are substantially similar to the designs of others.
If the Supreme Court does afford broader protection to designers, expect companies like Acquazurra to be more inclined to choose the legal system over Insta-shaming. After all, though the court of public opinion—supercharged by social media—can be influential in its own right, it's in the actual courts that more lasting recourse and redress can be found.