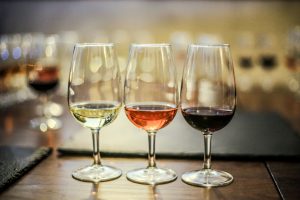 Every day, businesses extend more of their services to the internet in an effort to cater to millennials and upcoming generations of consumers. Those in the wine industry are no exception. Though somewhat slow to adopt online and digital marketing in the beginning, businesses in the alcohol industry are catching up. One site called the Tasting Room, touted as the fastest growing wine club in the country, offers an online questionnaire that can determine affordable wines that a customer supposedly would like and then deliver them directly to the customer's door. Part of the assessment involves receiving a tasting kit for the consumer to taste and rate and then completing a survey on the company's website. Tasting Room's algorithm then determines appropriate wine selections for you. The customer also rates subsequent shipments so that the wine selections become even more finely tuned over time.
Of course, traditional wineries are trying to cater to millennials, as well. Most now blog and market their wines through social media platforms like Twitter or Facebook. One winery, Flora Springs Winery, even installed computers several years ago to encourage their guests to record their experiences at the tasting room and their thoughts on the wines, and to share those thoughts online.
Highly regulated products like alcohol, however, pose a special situation for online sales. Federal and state laws regulate the sale of alcohol in traditional brick-and-mortar stores, but these regulations also extend to the internet, and how these regulations are applied to an online environment is much more complicated. Each state has its own set of laws restricting the sale and purchase of alcohol, so depending on which state you live in, the restrictions differ. For example, in some states you cannot buy alcohol in grocery stores while others prohibit alcohol sales at certain times during the day. Some states have a limit on how much a person can import into the state for personal use. Online sales certainly make it more difficult for authorities to enforce, and it could be argued that state laws can be evaded through online purchases. One prime example of this is the applicable age limit to legally purchase alcohol. While online sellers of alcohol must be licensed by state agencies and obey applicable laws such as taking appropriate steps to verify the age of online customers, whether these steps are successful is at best questionable. A 2012 University of North Carolina study found that minors could often evade age restrictions when buying alcohol online. However, a more recent study in 2014 by the FTC is more promising.
In any event, it is clear that purveyors of alcohol are responsible for complying with laws and regulations, and today, that includes being aware of guidelines and rules in using social media to market their goods.
The Alcohol and Tobacco Tax and Trade Bureau (TTB), a bureau of the U.S. Department of the Treasury that enforces the laws and regulations pertaining to the alcohol and tobacco industries, has issued guidelines defining everything from blogs and social networks to video-sharing sites and micro-blogging services as "advertising." Advertising is defined as the direct or indirect publication or dissemination of any written or verbal statement, illustration, or depiction that is in, or calculated to induce sales in, interstate or foreign commerce.
Thus, a business selling wine or any other alcohol that uses social media in connection with the business must follow these guidelines. The guidelines require that mandatory statements on alcohol advertisements be:
Conspicuous and readily legible.
Clearly a part of the advertisement.
Readily apparent to the persons viewing the advertisement.
TTB strongly recommends that advertisers place mandatory statements in a location that identifies the brand or the company.
The guidelines warn against use of certain prohibited content, including but not limited to:
False, untrue or misleading statements.
Disparaging statements about a competitor's products.
"Obscene or indecent" statements, designs or representations.
Representation of analyses, tests or guarantees that ("irrespective of falsity") may be likely to mislead consumers.
Statements, designs or representations that wine has intoxicating qualities.
Certain health-related statements.
The wine industry itself has issued digital marketing guidelines for social media use. For example, wineries can only use social media channels that have an audience where at least 71.6% of that audience is of the legal drinking age. Wineries are responsible for researching reliable statistics on audience data and regularly confirming the audience data on the social media sites they use to insure they are only giving and collecting information from customers aged 21 years and up. Currently, Facebook, Twitter, Instagram, Pinterest and most wine apps meet this audience requirement. (Snapchat does not.) Even if a business advertises on social media channels meeting the 71.6% minimum, any advertisement should avoid content that "has particular appeal to persons below the legal drinking age," such as the inclusion of models or celebrities "who are or appear to be" underage.
And of course, businesses selling alcohol must also abide by the Federal Trade Commission (FTC) guidelines on advertising. Accordingly, if, for example, a blogger was given a bottle of wine to write about a winery and the wine, the FTC requires that the blogger disclose the fact that he or she was given the free sample. Failure by the blogger to disclose such sponsored advertisements or endorsements constitute a violation of FTC regulations and the FTC can take action against the blogger or the winery.
The above demonstrates how social media use in advertising is spreading to all industries and the importance for businesses using social media to stay abreast of the evolving regulations surrounding such use.