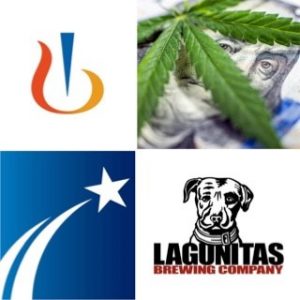 Over the past several years, cannabis has been one of the hottest areas of investment and innovation, with many states introducing legislation to legalize cannabis use in some form. Correspondingly, many companies have entered the U.S. market and are even listed on the Nasdaq or the New York Stock Exchange, leading to much interest on Wall Street. Many nascent industries have budded in the cannabis space, ranging from growing the cannabis plant itself to extraction processes to consumer products like vapes.
Companies of note in the industry include Canopy Growth Corp., Aurora Cannabis Inc., Trulieve Cannabis, GW Pharmaceuticals and Tilray Inc. Tilray drew major attention when it signed a sales partnership agreement with pharmaceutical giant Novartis AG in December 2018 and just recently posted a whopping $15.5 million in revenue in its latest quarter—30% of which was reported to derive from recreational marijuana sales. The marijuana industry has also been a financial boon to many states, having drawn millions, if not billions, of revenue in 2018 alone.
Meanwhile, the Drug Enforcement Administration (DEA) has indicated a softening regulatory view on the illegality of marijuana, at least for certain FDA-approved medical treatment products. Marijuana has long been categorized under the 1970 Controlled Substances Act as a Schedule I controlled substance, relegating it to the same class as heroin, LSD and ecstasy, and designating it as having "no currently accepted medical use and a high potential for abuse." However, in 2018, the DEA issued an order that placed particular FDA-approved products containing cannabidiol (CBD) and no more than 0.1 percent tetrahydrocannabinols (THC) in schedule V, rather than the customary I. (CBD and THC are chemical components derived from cannabis.) One example of such a Schedule V cannabis-derived drug is GW Research Ltd.'s Epidiolex, an oral drug that treats seizures associated with two rare, severe forms of epilepsy. Epidiolex was the first cannabis-derived drug to ever be approved by the FDA, just last year in 2018.
The shift in regulatory buzz and high hopes for marijuana companies and stocks have caused companies in more traditional and non-medical fields like the food and alcohol industry to join their medical counterparts in cannabis-related ventures. For example, Constellation Brands, the $42 billion company that distributes Corona beer, took a 9.9% minority stake worth about $191 million in medical marijuana company Canopy Growth, which itself is worth around $2 billion. Constellation Brands is interested in applying its expertise in the beverage industry to developing and marketing cannabis-infused beverage products.
Other major beverage companies have also flowered in the U.S. market. Heineken-owned craft beer brand Lagunitas Brewing Company, announced the launch of a THC/CBD-infused sparkling water in July 2018, to be distributed in Californian dispensaries. Called Hi-Fi Hops, the cannabis-infused water comes in two dosages, one with 10 mg of THC and the other with 5 mg of THC and 5 mg of CBD.
Demand for cannabis-infused consumer products that are accessible is fairly high; diners have raved about the THC sandwiches at MagicalButter in Seattle, and the bar Prank in Los Angeles specializes in cocktails infused with terpenes, which provide the taste and aroma of cannabis and possess anti-inflammatory properties. Though the incorporation of marijuana into food and beverages is still illegal under federal law, the DEA's changing stance and the growing market of cannabis-derived products may mean that the tide may be shifting in the favor of marijuana foodies and the canna-curious in the United States.