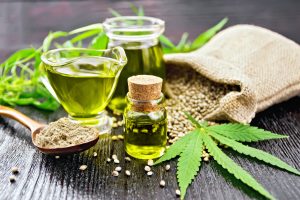 On May 31, 2019 the FDA held a public hearing about cannabidiol (CBD) products. The day-long hearing saw comments and presentations from stakeholders ranging from nonprofit organizations like ASTM International to the Grocery Manufacturers Association, a food, beverage and consumer product trade association. Corporate entities in the cannabis industry also provided testimony, such as ingredient manufacturer Mile High Labs, which supplies products like CBD isolate and concentrate, and Socati, which provides high-CBD genetic varieties and extraction processes. Pharmaceutical companies like Zynerba Pharmaceuticals Inc., which produces the drug Connect-FX, were also present. Connect-FX is a CBD transdermal gel for treating Fragile X syndrome (Martin-Bell syndrome), a rare genetic disorder that causes developmental problems like intellectual disabilities. It is currently being evaluated as an experimental treatment for use in child patients in clinical trials.
There were many interesting topics brought up by the FDA and speakers, including for example: (1) consumer product safety concerns; (2) regulating the manufacture of CBD products; and (3) the introduction of CBD into food, drinks and dietary supplements.
1. Safety Concerns of CBD Consumer Products
Dr. Ned Sharpless, the Acting Commissioner of Food and Drugs of the FDA, set the tone of the hearing regarding safety concerns of CBD consumer products when he remarked in his opening speech that there were many "significant gaps" in knowledge and research:
"For example, how much CBD is safe to consume in a day? What if someone applies a topical CBD lotion, consumes a CBD beverage or candy, and also consumes some CBD oil? How much is too much? How will it interact with other drugs the person might be taking? What if she's pregnant? What if children access CBD products like gummy edibles? What happens when someone chronically uses CBD for prolonged periods?"
The FDA has formed an internal working group to address questions like those, he said.
A consistent theme was the uncertainty regarding the dosage of CBD present in various consumer products and the efficacy of such dosages. During questioning, the FDA consistently asked for more evidence-based information, like safety data at low dosages (10–30 mg). The FDA also asked for definitions of commonly used terms in the cannabis industry such as "broad spectrum," "full spectrum," "THC-free," "naturally occurring levels," etc.
The need for better data-driven evaluation of the effects of CBD in regimented studies was another common thread. For example, Greenwich Biosciences's VP of U.S. Professional Relations, Alice Mead, expressed support for the FDA approval process, and noted that "no one knew CBD was potentially toxic to the liver until we conducted clinical and preclinical studies." According to their research, negative side effects start at even relatively low doses—about 70 mg/day in adults. Greenwich Biosciences is GW Pharmaceuticals' U.S. subsidiary and the provider of cannabinoid prescription medicines like Epidiolex, the first and only CBD-based medication that is currently FDA-approved.
In another example, the response of Igor Grant of the Center for Medicinal Cannabis Research at the University of California at San Diego pointed out the need for further studies regarding topical CBD products. He stated that "we don't know" when the FDA asked whether data existed on CBD absorption through the skin. Keith Fargo of the Alzheimer's Association also similarly stated that research was inconclusive regarding CBD as a treatment for Alzheimer's Disease; there had not been clinical trials for human use, only animal model research.
Barry Goodell from the University of Wisconsin-Madison and Kari Rosbeck of the Tuberous Sclerosis Alliance also testified on the potential ramifications of CBD use alongside other pharmaceuticals like anti-seizure medicines, citing the possibility of unintended drug interactions that could have adverse effects in patients.
2. Manufacturing Control of CBD Sources
The variability of CBD sources and processing was also a topic of great interest at the hearing. Many speakers urged the FDA to institute regulations regarding quality control for CBD manufacturing processes. For example, several health care professionals voiced concerns over the presence of THC (tetrahydrocannabinol, a psychoactive compound) and other contamination issues.
Bill Grubb, CIO and Executive VP of Business Development for Noramco Inc., pointed out that Noramco's analyses of various botanical CBD products confirmed the presence of many impurities at higher concentrations (up to 4.39%) as compared to Noramco's own pharmaceutical CBD. He stated that usage of CGMP manufacturing procedures—the main regulatory standard for ensuring pharmaceutical quality—is essential to producing CBD that is safe and consistently pure. (Josh Epstein of Socati was also questioned whether most CBD manufacturers followed CGMP, the answer to which was "no.") Grubb also suggested use of organic chemical synthesis methods to produce CBD (which Noramco uses) in order to reduce the risk of contamination by pesticide residues, heavy metals from soil, and batch differences due to other environmental variables. Grubb also recommended that the FDA limit THC impurity levels to less than 1000 PPM. Noramco is a Delaware manufacturer of synthetic cannabinoids, and supplies pharmaceutical companies like Cardiol Therapeutics Inc, which produces heart failure medication CardiolRx.
Other speakers, such as Bill Gurley of the University of Arkansas' College of Pharmacy, also mentioned the concentration of CBD—or potentially lack thereof—in commercially available CBD products. In his laboratory's testing of over two dozen CBD products, nearly every single one contained CBD in an amount that was not accurately represented on the product's label. Some barely contained any CBD at all. For instance, the label of one product claimed that the product contained 50mg of CBD. But according to Gurley's lab tests, the product contained 1,140 mg—a whopping discrepancy of 2,280%.
3. CBD-Infused Food, Drinks, and Dietary Supplements
In his remarks, Dr. Sharpless also stated that under federal law, CBD and THC cannot be lawfully added to a food or marketed as a dietary supplement. While foods do not require FDA approval before being marketed, new food additives must be approved as safe by the FDA before being introduced into food, unless the additive is "generally recognized as safe," or "GRAS."
Sharpless expressed the FDA's unwillingness to issue regulations creating a new exception to the statutory requirements for food additives— which the FDA has never done before—for a substance such as CBD, stating that "it would be new terrain for the FDA" and that "there are important reasons to generally prohibit putting drugs in the food supply. When FDA approves a drug, we carefully evaluate the risks and benefits of a specific formulation, dosage form, and strength for a particular population."
A Few Post-Hearing Observations…
As the hearing was only a listening session to identify public concerns regarding CBD, the FDA did not indicate what, if any, specific regulatory moves they were currently considering, nor how the information from the hearing or the internal working group would eventually play into any proposed regulations.
Given that during the hearing the FDA seemed to be very concerned over the lack of standards for CBD manufacturing, it may be more necessary for companies to take measures now to implement more stringent safety and quality benchmarks for their products.
As such, accessing high quality extract, processing, and quality control technologies with high degrees of repeatability, accuracy and automation will be key for companies to ensure consistent manufacturing and avoid the issues that commenters complained about in existing CBD products—whether such technologies are being developed and used within a vertically integrated company, licensed, or purchased as a service or equipment from specialist or non-CBD companies.
The value of such proprietary technologies focused for the cannabis industry has been apparent for a while to at least some companies currently operating in this particular space—as an estimate, a keyword search of all granted U.S. patents related to cannabis* saw that 26.18% of those patents were related to "cannabis extract," 11.6% to "solvent extraction," and 10.8% to "cannabinoid concentration," among other concepts. (*Meaning that the term "cannabis" was contained in the abstract or title or appeared frequently in the text. There were roughly 443 such active U.S. patents that fell in this category as of April 2019.)
For example, on the extraction side of cannabis manufacturing processes, GW Pharmaceuticals owns U.S. Pat. No. 9,034,395, "Processes and apparatus for extraction of active substances and enriched extracts from natural products," and U.S. Pat. App. No. 20170290869, "Extraction of pharmaceutically active components from plant materials," which covers processes for subcritical CO2 extraction.
There is no single right way to conduct an extraction setup, with extractors commonly using a range of methods that may include carbon dioxide, butane, hexane, ethanol extraction methods etc., that may depend on individual product needs, other processing procedures and/or budget. However, as stressed during the FDA hearing, having quality manufacturing processes in place that produce predicable and reliable CBD products is essential for maintaining consumer safety—especially where regulatory bodies have not yet promulgated regulations.
We've spoken previously on the importance of patent protection in the nascent cannabis industry—particularly as companies have begun enforcing their patents against competitors in court or challenging their competitors' patents at the U.S. Patent & Trademark Office. As this hearing made clear, there may be plenty of issues for companies, agencies and consumers to pay close attention to when it comes to CBD extract, processing, quality control methods.