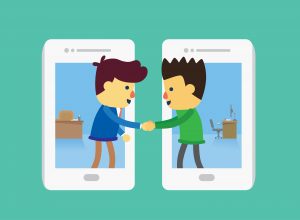 Social media is quickly becoming the way that companies present and market themselves to the world. Companies are also realizing the value social media provides in an easy conduit to communicate with customers. But the same qualities that make social media valuable can also lead to negative consequences. While information can be shared easily and instantaneously through social media, retracting such information is another story. Furthermore, the audience is not easily limited. So when it comes to the context of mergers and acquisitions, should social media have a role?
Social Media Has Become a Key Business Asset.
94% of all businesses with a marketing department use social media as part of their marketing platform. A company's social media presence allows both customers and competitors to see the personality of an organization, its values and beliefs, and the way it conducts its business. Forward-thinking companies both recognize and utilize social media as a valuable tool in the creation and maintenance of brand image. Also, due to its ever-increasing impact, social media has begun to play a large role in the due diligence phase of M&A transactions. In fact, social media has increasingly been used to identify target companies for potential acquirers. In a 2013 survey by Deloitte, more than half of corporate development executives used social media for target identification.
The above being said, however, there are two obvious challenges introduced by social media in the context of mergers and acquisitions:
Keeping Things Confidential
Buyers and sellers place an incredibly high value on maintaining confidentiality in mergers and acquisitions. Buyers are sensitive that a leak could invite unwanted competition. Sellers may worry that an impending merger or acquisition could cause unwanted business distractions and, should the deal fall through, send negative signals to the public and other potential buyers. Thus, companies considering or currently involved in a merger or acquisition must take great care to make sure that the details (or the very existence) of a merger or acquisition are not inadvertently leaked through careless social media activities at either the corporate or employee level. Blatant posts, as well as more subtle social media activities, can alert the public to a potential merger or acquisition, possibly opening the leaking party to breach of contract damages stemming from the loss of confidentiality.
Keeping Things Compliant
The Securities and Exchange Commission (SEC) has issued regulations on public statements made by companies in relation to mergers and acquisitions. As companies utilize social media more and more to connect with stakeholders, companies must be cognizant of the SEC requirements relevant to those announcements. Rule 165 of the Securities Act of 1933 permits a company to make a public statement (before or after the filing of a registration statement) relating to mergers and acquisitions so long as the statement contains a legend:
→ urging investors to read the relevant documents containing important information filed or to be filed with the SEC;
→ explaining that investors can obtain those documents for free from the SEC; and
→ describing which of those documents can be obtained from the (statement making) company free of charge.
In the case of social media sites like Twitter that place character limits on posts, the SEC permits companies to use a hyperlink that will take the reader to a separate page containing the required legend so long as there is language around the hyperlink that alerts the reader that the hyperlink contains important information.
Still, confidentiality- and compliance-related potential pitfalls aside, there are real benefits to using social media post-merger or acquisition:
Social Media Can Be Used to Reassure.
A merger or acquisition can have a significant effect on a company's business relationships. Customers are often concerned about future investment in products and services that they are currently using and loyal to and hesitant to embrace new products and services with a newly structured company. Likewise, potential new business partners may not recognize the potential value that could result from a merger or acquisition and, as a result, may be wary of beginning a new business relationship. Social media can be utilized to reassure customers and potential business partners of the advantages of reorganization. However, in order to be effective, a company's social media presence must be both consistent and centralized. Customers should be shown by both the presentation and the content of the message that the reorganization puts the company in a much better position strategically than it would be otherwise. And of course, care must be taken to ensure that any confidential information regarding the merger or acquisition is protected and not disclosed.
Social Media Can Promote Post-Merger Collaboration.
Many companies are unable to successfully navigate the pitfalls that present themselves during a merger or acquisition. Thus, both mergers and acquisitions typically have a high failure rate. Social media can be leveraged to promote effective communication and, ultimately, synergy across reorganized companies. An example of this can be found in the merger between Schneider Electric and Invensys. After the acquisition of Invensys, Schneider Electric sponsored a competition amongst its employees to post pictures and comments demonstrating what it meant for the two companies to be "Better Together." For every post, Schneider Electric donated a corresponding amount to charity. This promoted cross-company collaboration in a cost-effective and easily implementable fashion. Such programs allow companies to take advantage of the speed with which social media fosters communities across previously formidable boundaries such as geography, scale, and institutional culture and tradition in order to effectively build collaborative relationships.
All this considered, the answer to whether social media should have a role in mergers and acquisitions all depends on timing. Early and midway through the process, undisciplined or unmonitored social media accounts and activity can cause a company substantial headaches. So at these stages, the role of social media is one of measured restraint. But once the transaction is completed? That's when the "social" in social media can help ensure all the work that has gone into creating a new business entity doesn't go to waste.