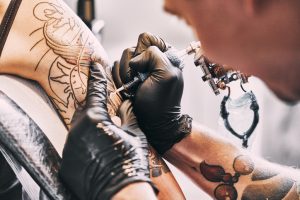 You're in the midst of doomscrolling, when you decide to take a mental health break and post a photo to your socials from a happier (pre-pandemic) time. As you search through your photos, you find a great one of yourself that a friend-of-a-friend took. You're about to post the photo when you remember a post that you read on this very blog about the potential copyright consequences of using a photo taken by someone else. You aren't a celebrity—yet—but you decide that it's best to use a photo that you took yourself. A couple of minutes later you post a throwback selfie in which you are smiling as you proudly show off your very first tattoo. It took you days to decide on the design and hours for the tattoo artist to bring to life. Even today you still get compliments on it, and some people have even recognized you solely based on the fact that you have a very big and very prominent tattoo of Pegasus riding a dragon while eating rainbow sherbet and shooting lasers from a cat. Your post starts racking up likes from your friends (and followers)—when all of the sudden you get a DM from the tattoo artist informing you that she never authorized you to display her copyrighted work on social media and demanding that you take the photo down. Unfortunately, now you'll be spending the rest of your evening trying to figure out how any rights your tattoo artist has in works permanently inked upon your body may impact your own rights to use (and license) your own likeness.
For starters, it is possible to copyright a tattoo. Copyrights are designed to protect original works of authorship fixed in any tangible medium of expression, including pictorial and graphic works such as tattoos. Secondly, there have been efforts by tattoo artists to enforce these rights. Back in 2011, one tattoo artist attempted to stop the release of the movie The Hangover: Part II based on the movie's use of a tattoo he applied to Mike Tyson on another character in the movie. The dispute was eventually settled.
In 2016, a company claiming to have exclusive copyright licenses to tattoo designs that had been applied to NBA stars LeBron James, Kenyon Martin and Eric Bledsoe filed a lawsuit against video game publisher Take-Two Interactive based on allegations that the NBA 2K video game franchise used unauthorized reproductions of those designs in replicating the physical likenesses of the players for the game. Earlier this year, U.S. District Court Judge Laura Taylor Swain (S. Dist. of New York) ruled in favor of Take-Two on its motion for summary judgment and dismissed the lawsuit finding the use of the tattoos by Take-Two to be: de minimis (and thus not substantially similar to the original tattoos), subject to an implied license by the tattoo artist that allowed the players to use the tattoos as part of their likenesses (and Take-Two was licensed to use the players' likenesses by the NBA), and transformative fair use.
While studios and publishers may have breathed a sigh of relief upon reading the Take-Two NBA 2K video game decision, that breath was cut short by the recent decision of U.S. District Court Judge Staci M. Yandle (S. Dist. of Illinois) on competing motions for summary judgment in another tattoo copyright infringement case brought against Take-Two—this time involving the WWE 2K video game franchise. Similar to the NBA 2K video game case, plaintiff Catherine Alexander alleges that Take-Two has infringed her copyrights in a tattoo she applied to WWE professional wrestler Randy Orton by replicating Orton's likeness.
On September 26, 2020, Judge Yandle granted partial summary judgment as to the copying element in favor of Alexander and denied summary judgment as to Take-Two's defenses that the use of the tattoos was authorized by implied license, constituted fair use, and was de minimis. In particular, Judge Yandle ruled that the issues of implied license, fair use and actual damages could not be properly resolved on summary judgement because triable issues of fact existed. For example, there were questions as to the existence and scope of the alleged implied license and Judge Yandel found it "unclear whether Alexander and Orton discussed permissible forms of copying and distributing the tattoo works or whether any implied license included sublicensing rights…." Finally, as to Take-Two's de minimis defense, Judge Yandle first questioned whether the Seventh Circuit recognized such a defense and whether such a defense would be generally viable before rejecting the defense on the basis that the entirety of the tattoo was copied. A jury trial is currently set in this case for February 16, 2021.
Thus, it seems that the extent of your publicity rights as a living canvas for another's art may depend on a number of factors that will need to considered—such as, the fame of the parties at the time of tattooing, what was discussed by the parties at that time, how the tattooed person is seeking to exploit their own likeness, where the parties reside, where the tattoo was applied, and which courts may govern the dispute. Given such a factually intensive inquiry, it seems that one potential solution may be for the pre-tattoo process to include a discussion as to the respective rights between the tattoo artist and tattoo recipient (such as explicit permission for the recipient to show all or part of the tattoo in social media posts) and documenting what is agreed upon. Otherwise, you may find yourself on the receiving end of a copyright takedown notice or infringement lawsuit because the tattoo inked on you doesn't necessarily belong to you.
---
RELATED ARTICLES
Social Media Posting, Copyright Infringement and the Rights Balancing Act
Song Sound-Alike Suits: Recent Music Copyright Cases Strike a Different Note
How Real Is Too Real? Lawsuits Challenge Video Game Publishers for Including Real-World Content in Virtual Worlds