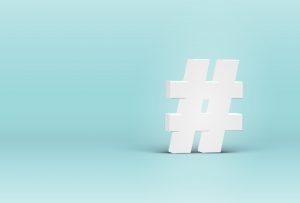 When the first social media hashtag was used in 2007, users had no idea how ubiquitous hashtags would become. Today, hashtags are an essential part of our lives (and a subject we've been writing about for years). From marketing a business to garnering support for a cause, hashtags have become an essential part of our society. This may even be an understatement. For instance, from May 26, 2020, until June 7, 2020, alone, the #BlackLivesMatter hashtag was used over 47 million times on Twitter. 47 million. Talk about impact.
But they aren't just used for social movements. Businesses are now using hashtags to create brand awareness, attract new customers and increase engagement with their posts. Some businesses even use hashtags to raise awareness about the causes they support. But are the wide-ranging benefits of hashtags too good to be true? Well, there is a catch. There is an art to hashtagging, and some companies have not quite mastered it. The use of certain hashtags can make companies vulnerable to false advertising and trademark infringement claims. Some hashtags can even lead to violation of a platform's terms of use. When selecting hashtags for your business endeavors, avoid these #mistakes.
Mistake #1: Using Misleading Hashtags
Among all hashtag infractions, the use of misleading tags is the biggest offender. Advertising content is considered deceptive if it makes representations that are: (1) likely to mislead the consumer and (2) likely to affect the consumer's decision with respect to the advertised product. The misleading or deceptive use of hashtags has been especially problematic throughout the COVID-19 pandemic. The Food and Drug Administration (FDA) and the Federal Trade Commission (FTC) have sent dozens of letters to companies regarding misleading representations that their products are safe or effective for the treatment of COVID-19 or other diseases when they are not. When a manufacturer makes claims about its product's ability to mitigate, prevent, treat, diagnose or cure COVID-19, any such representations are examined under a microscope, including the company's use of social media hashtags to promote its product.
For example, the FDA sent a warning letter to a company regarding misleading representations that the company's cannabidiol products could fight COVID-19. The FDA cited, in part, the company's posts on social media using a COVID-19 hashtag in which the company boasted: "Don't Fear the #CoronaVirus FIGHT it with us! Soap, immune boosting oils & more!" Similarly, the FDA faulted another company's use of social media posts with a COVID-19 hashtag in which the company urged social media users to "FORTIFY YOUR BODIES [sic] DEFENSE AGAINST #covid19." The takeaway here is that using a hashtag does not protect an otherwise misleading statement.
Mistake #2: Improperly Using Another Company's Hashtag
When a product or service is new and just gaining traction, it may be tempting to use a hashtag for a similar product or service that followers may be more familiar with. For example, let's say that Brand X is a new essential oil brand and Brand X's marketing manager decides to throw in the hashtag #doterra on its social media posts to target people Brand X believes are already essential oil fans. It's a genius move. Or is it?
First, note that a hashtag itself could be trademarked. In fact, the USPTO has granted registration for several hashtag marks. Second, it is important to consider whether the proposed hashtag incorporates any trademarks owned by another. By associating its products with a well-known brand, a company risks creating an impression of affiliation and infringing the well-known brand's trademark. The use of hashtags still must abide by basic trademark rules, and a company needs to consider whether its use could cause any consumer confusion. In our doTERRA example above, the use of the #doterra hashtag (rather than a more generic hashtag for essential oils) could be seen as an attempt to associate Brand X's essential oils with the essential oil products of doTERRA and may confuse consumers, which is the exact scenario trademark law seeks to prevent.
Companies must be diligent in vetting hashtag use even when technology is being used to automate social media postings. For example, perhaps the marketing manager of Brand X in our above example isn't looking to include the hashtag of a well-known brand. In fact, she's much savvier than that. Like many companies, she instead uses a hashtag generator tool to create hashtags for posts. However, this should not be a completely hands-off process, as each hashtag needs to be reviewed for potential trademark infringement or potentially misleading statements.
Mistake #3: Failing to Monitor Influencer Hashtag Use
Influencers can be a valuable component to a company's marketing strategy, but influencer social media posts should be carefully monitored to ensure they are complying with all applicable disclosure requirements. For example, influencers in the U.S. are required to: 1) tell their followers if and when they are being paid or otherwise compensated to share a product or service; 2) be clear about their relationship (e.g., sponsorship) with a business; and 3) be transparent and not misleading. Best practices include expressly stating these disclosure obligations in any service agreement with the influencer as well as a provision that allows the company to pre-approve or otherwise monitor posts.
To meet these requirements, influencers must make disclosures within the post. Although hashtags may be used to make such disclosures, it needs to be obvious that the influencer is making a disclosure. This means that the hashtag disclosure cannot be buried at the bottom of the post where the viewer needs to "see more" or expand an arrow to see it. In addition, the hashtag itself has to clearly convey the disclosures. For instance, the following hashtags have been deemed ambiguous in the UK when conveying a sponsorship relationship: #sp, #spon, #client, and #collab. Likewise, burying #ad or #advert within a post with other text or hashtags is similarly ambiguous because someone who sees such a tag may not realize that it is a disclosure. This is similar in the U.S.
Social media is ever-evolving, but hashtags are not going away. And why should they? Hashtags are enormously useful tools for businessowners to create brand awareness, connect with customers and increase sales. If your company chooses to employ hashtags for its business needs, remember to avoid the three mistakes laid out above. Don't mislead consumers. Don't use another brand's trademarks. And monitor your influencers. In other words, #betransparent, #beoriginal and #becareful.
---
RELATED ARTICLES
Hashing Out the Differences: Hashtag-Powered Promotion or Trademark Infringement?
Like the FTC Before It, the UK's Competition and Markets Authority Puts Influencers on Alert