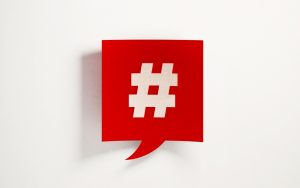 In today's world, most businesses use hashtags to boost their brand awareness and promote their products and services on social media platforms such as Twitter, Facebook, Instagram and LinkedIn. As the saying goes, "a picture is worth a thousand words"—posting a great photo of a product with the right #hashtag, and the attention received can go from "scant" to "deluged" in moments. Such posts can promote higher customer engagement, attract more likes and new followers, and in short provide fantastic and efficient publicity for businesses.
However, businesses should remain mindful of risks associated with certain ways that hashtags are used. For example, some marketing campaigns reference the brand names or registered marks of other businesses. Such use must be done carefully, lest it result in the violation of a social media platform's terms of use and possible takedown, or even worse, potential liability for trademark infringement.
In an earlier post, we looked at the 2015 ruling of Eksouzian v. Albanese, where the plaintiff's use of the hashtag #cloudpen on Instagram was considered merely a functional tool to direct the location of the plaintiffs' promotion such that it was viewed by a group of consumers, and not considered an actual trademark. Since this ruling, the potential overlap between hashtag and trademark has been explored further by the courts.
Public Impact LLC v. Boston Consulting Group
A year after Eksouzian v. Albanese, the District Court of Massachusetts delivered a different answer to the hashtag/trademark question in Public Impact LLC v. Boston Consulting Group. Public Impact LLC is a consulting firm that owns an incontestable mark for PUBLIC IMPACT and uses the mark in association with its consulting work for improving learning outcomes for K-12 students. Public Impact sought a preliminary injunction against Boston Consulting Group Inc. (BCG) for its use of the PUBLIC IMPACT mark in a Twitter username "@4Publicimpact" and uses of the hashtag #publicimpact, in association with work for improving the efficiency and effectiveness of governments' delivery of public services, including education, to their citizens.
The District Court found that the username "@4Publicimpact" is highly similar to the PUBLIC IMPACT mark, because it (i) automatically attaches to every BCG post made on its Twitter account and (ii) therefore identifies the source of the post. The Court concluded that the minor addition of the number "4" in BCG's username does not prevent the use from being virtually identical to the PUBLIC IMPACT mark and that use of the hashtag #publicimpact is identical to the PUBLIC IMPACT mark. Further, because BCG competes with Public Impact in offering similar education-related consulting services, the Court found that it was likely that "even a sophisticated consumer could be confused," and therefore, concluded that BCG's use of the username @4Publicimpact and hashtag #publicimpact was likely to constitute trademark infringement and granted injunctive relief.
Chanel, Inc. v. WGACA, LLC
More recently, in Chanel, Inc. v. WGACA, LLC (2018), Chanel asserted claims of false advertising or endorsement, trademark infringement, and unfair competition under the Lanham Act against What Goes Around Comes Around (WGACA), a retailer of luxury preowned accessories and apparel. WGACA offers preowned Chanel products on its website and stores. Chanel alleged that WGACA tagged photos of Chanel products with hashtag #WGACACHANEL on its social media pages, and that WGACA's use of the hashtag #WGACACHANEL served "to create the impression that WGACA is affiliated with Chanel or is an authorized Chanel retailer," thus infringing Chanel's trademarks.
The Southern District Court of New York denied WGACA's motion to dismiss the Lanham Act claims, stating that Chanel's allegation was adequate, and that the nominative fair use doctrine did not change this outcome. (Nominative fair use permits use of another's trademark to describe the user's products or services based on a balancing of several factors.) The Court explained that WGACA's Chanel-branded items would be readily identifiable as Chanel without the hashtag #WGACACHANEL. In addition, WGACA's use of Chanel's trademark was extensive as WGACA displayed Chanel-branded goods more prominently than other luxury-brand goods, and repeatedly used Chanel's name in the hashtags and posted Chanel-branded products photos on social media. Finally, the Court found that the hashtag #WGACACHANEL and WGACA's guarantees of authentication of themselves may be taken as suggesting sponsorship or endorsement by Chanel.
The primary purpose of trademark law is to prevent consumer confusion. The fundamental question in any trademark infringement lawsuit is whether the defendant's use of a trademark creates a likelihood of confusion between the defendant's goods or services and the plaintiff's. Therefore, in crafting a perfect hashtag # for a social media campaign, keep in the mind the basic trademark rules. If incorporating another's trademark in your hashtag is desired, always ask whether there is another way to deliver your message and whether the incorporated trademark would likely create a likelihood of confusion between the trademark owner's product or service and yours. If either answer is yes, then drop the hashtag or use alternative words.
---
RELATED POSTS
One Hashtag at a Time: Twitter's Versatile Tool Is Put to Work in the Legal Industry