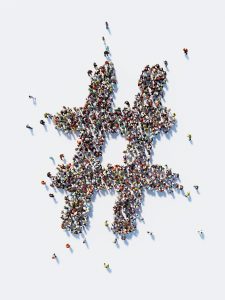 We have previously examined the evolving role of the hashtag in intellectual property law, particularly trademark law. While the nuances of the symbol's existence and use protections continue to be ironed out by the courts and the U.S. Patent and Trademark Office, the hashtag has quickly become a ubiquitous tool on social media. It is no surprise the legal field is utilizing the empowered hashtag to connect members of the industry, particularly on Twitter. Using #legal or #LawTwitter hashtags on social media has created informal "groups" of lawyers, judges and other legal practitioners who provide support, feedback and criticisms of its members (and others) on a variety of topics.
One of the first uses of a #LawTwitter hashtag was #appellatetwitter in June, 2016. The #appellatetwitter hashtag was followed a few months later by #PracticeTuesday, which was created by two lawyers who met through #appellatetwitter. Sean Marotta, a senior associate in the Washington, D.C., office of Hogan Lovells, and Rachel Gurvich, a faculty member at the University of North Carolina School of Law, co-founded #PracticeTuesday as a way to provide lawyers and law students with a forum to ask questions of practicing lawyers and gain information and lessons learned from participants' experiences. #Appellatetwitter and #PracticeTuesday were quickly joined by a variety of other #LawTwitter hashtags, including #inhousetwitter, #LRWProfs, #litigationtwitter and #trialtwitter.
The hashtag has even impacted citations in legal briefing and court opinions. Beginning in March 2017, the #cleanedup Twitter movement sought to establish a new parenthetical for citing legal authorities to indicate the removal of extraneous brackets, ellipses or nested quotations that otherwise distract from the readability of the brief. Lawyers on Twitter, particularly those who follow #appellatetwitter, loved the idea, and it caught the attention of courts across the nation. Various decisions, including opinions from the Fifth Circuit Court of Appeals, Maryland Court of Appeals, and the Supreme Court of Kentucky, have recognized #cleanedup and used the "cleaned up" parenthetical. (See, e.g., United States v. Reyes, 866 F.3d 316, 321 (5th Cir. 2017); see also Lamalfa v. Hearn, 2018 WL 679687, *9 (Md. Feb. 2, 2018).)
However, one of the most important #LawTwitter hashtags showing the power of this mighty symbol is #LadyLawyerDiaries. It is no secret that sexual harassment in the workplace has become a hot-button issue over the past year or more, spurring events such as the #TimesUp and #MeToo movements. These problems persist in all industries, and the legal world is no exception.
#LadyLawyerDiaries was introduced in a special #PracticeTuesday discussion revolving around women sharing their experiences of sexism and harassment in the legal profession. It quickly became a movement that gives female attorneys an opportunity to speak out about gender bias and sexual harassment in the legal profession with the support of an entire group of attorneys. The #LadyLawyerDiaries group has its own Twitter handle—@LadyLawyerDiary—which is run by a core group of about fifteen female attorneys. The members of the group range in ages from 20 to 40 and come from a variety of legal backgrounds, including law clerks, court staff attorneys, law firm associates and partners, law professors, in-house counsel, and judges. Some of the prominent #LadyLawyerDiaries tweeters include Jeena Cho, a San Francisco lawyer who writes about mindfulness for lawyers and is co-author of The Anxious Lawyer; Leah Litman, a professor at the University of California, Irvine School of Law; Rachel Gurvich; Kendyl Hanks, a partner in Greenberg Traurig's Austin office; and Kristen Vander-Plas, an associate with Brad J. Davidson Law Firm in Lubbock, Texas.
Via Twitter, Rachel Gurvich described the origins of #LadyLawyerDiaries to me, explaining that as more people shared their "stories or personal anecdotes with the hashtag, a community organically developed. It's an incredible sisterhood, which has blossomed into both professional connections and personal friendships." Kendyl Hanks echoed Rachel Gurvich's statement, explaining that she has "met the most incredible lawyers and friends [through] #LadyLawyerDiaries and #AppellateTwitter. Not only is there a strong professional component—[business] referrals, practice tips, etc.—but I have found some of the best friendships I've ever had in these groups."
These hashtag-powered movements and groups show the inherent power of this metadata tag when used with Twitter and other social media platforms and the potential benefit of social media to members of the legal community. #LawTwitter hashtags provide a mechanism for legal professionals to come together, gain new professional and personal connections, and provide a support system with other lawyers in what can often be a lonely legal world. They spark debate and conversations that tackle pressing issues in the legal profession that might have otherwise gone unnoticed or been ignored.
While the use of hashtags as a tool—and whether they are afforded legal protection as such—will likely be at the center of intellectual property disputes for the foreseeable future, one cannot deny that the once modest hashtag is now a powerful social media mainstay in all industries, including in the #legal social media world.