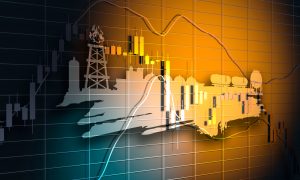 The use of blockchain and cryptocurrency platforms continues to evolve and expand into new markets. We recently highlighted the new patent issued to tZERO covering blockchain-based methods and systems to trade "digital transactional items," so it should be no surprise that another company—UK-based VAKT—has developed a blockchain platform for energy commodity trading.
News of the VAKT platform's development first emerged in 2017 when blockchain was gaining popularity. It was developed as a joint venture amongst a group of oil majors, traders and banks. VAKT recently launched on November 29, 2018, with its initial members being oil majors BP, Shell and Equinor; traders Mercuria, Koch and Gunvor; and international banks ING, Société Générale and ABN-Amro Gunvor. On January 16, 2019, Reuters reported that Chevron, one of the United States' largest multinational corporations; Total, a prominent French multinational oil and gas company; and Reliance Industries, a major Indian refiner, have all agreed to become members of the VAKT platform.
The VAKT platform is based on JP Morgan's Quorum blockchain technology. The enterprise-grade platform provides real-time and secure trading of energy commodities, with its stated goal being to become the foremost digital transaction platform for "all physically traded energy commodities." One important distinction between VAKT and other blockchain platforms is that there is no cryptocurrency involved. Rather, everything in between—deal recap, contract, logistics and invoicing—are handled through VAKT. (The fact that no cryptocurrency is involved may ultimately assuage any issues with securities enforcement bodies.)
It is only a matter of time before patent issues will arise with distributive ledger platforms like VAKT (and the underlying JP Morgan Quorum blockchain technology). JP Morgan filed patents in May 2018 for its blockchain technology platforms, which are still pending with the U.S. Patent and Trademark Office. However, given tZERO's recent patent, it is likely that patents for other blockchain platforms will soon follow. As we've noted elsewhere, companies developing and seeking to patent these blockchain platforms must be careful to avoid various pitfalls, particularly with enforcement of those patents.
While the first of these commodities trading platforms to go live, VAKT is only one of several commodities trading companies developing such blockchain trading platforms. This approach could provide long-term solutions and has the potential to severely reduce costs—mostly in terms of streamlining logistics—in an industry in which profit margins are relatively slim. It will be interesting to see if similar platforms are developed and implemented in the United States, whether these platforms expand to other commodities trading beyond energy trading, and the patent-related and/or SEC-related implications of these platforms, especially if others follow the VAKT model and operate without a reliance on cryptocurrency.
---
RELATED POSTS
Blockchain Goes Wall Street – New Issued Patent Covers Cryptocurrency Trading Platform
Crafting Blockchain Patent Claims to Avoid Enforcement Pitfalls and Maximize Potential Damages
Blockchain Variations: Sidechains, Slidechains and the Potential of the Fork